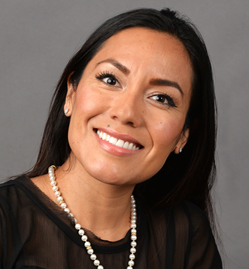 Alba Vazquez, MCS-P
Alba M. Vazquez is an OSHA Authorized Outreach Trainer in Construction and General Industry, a Medical Compliance Specialist, Author of "How to Deal With OSHA Like a Pro", Professional Speaker, and the President of Compliance Solutions, LLC. Some of the clients she has provided training for include: Hallmark, PG&E, Cedars Sinai Medical Center, Kaiser Permanente, IHOP, Dow Chemical, Goodwill, City of Los Angeles, and many others.
safetybeginswithtraining@gmail.com
Office: 1-800-311-6073
Testimonials
"Coming into a new position, everything is so new and appears to be very complicated but Alba made learning fun. Interaction with class and real stories helped provide an insight of what to expect. Thank you!"
"Excellent presentation, speaker was enthusiastic and friendly."
"I like that Alba speaks like a 'real' person. Does not use industry acronyms. Easy to understand the content."