Industrial hygienists are environmental specialists concerned with anticipation/identification/recognition, evaluation, control, and prevention of exposure to potentially dangerous and hazardous chemical, physical, biological, mechanical, psychosocial, and ergonomic stressors in the workplace environment. They provide insight into these problems based on their knowledge of the adverse health effects of exposure to the agents involved; on their expertise in recognizing, evaluating, measuring, and controlling hazards and on their application of the physics, chemistry and social/managerial determinants of the workplace environment. They also often work as part of interdisciplinary teams with epidemiologists, physicians, nurses and toxicologists.
The primary academic objective of the UCLA Industrial Hygiene Program is the training of professional and research industrial hygienists at the Masters and Doctoral levels. The Master of Science (MS) and the Master of Public Health (MPH) programs are two-year programs within the Department of Environmental Health Sciences in the Fielding School of Public Health. The program produces scientifically sophisticated graduates capable of performing at an advanced professional level and of moving into leadership positions. Training includes classroom/remote instruction, laboratory exercises, field trips, reports, internships, interdisciplinary interactions, and research. The Ph.D. program provides advanced training in a research area of industrial hygiene through the Doctor of Philosophy degree of the Department of Environmental Health Sciences.
Program
The degree curricula include courses covering the properties, health effects, exposure prevention, exposure measurement, regulations and guidelines, and control technologies for all types of harmful chemical, physical, biological, mechanical, psychosocial, and ergonomic stressors. There are required in-depth courses on environmental health fundamentals, toxicology, biostatistics, epidemiology, interdisciplinary practices, aerosols, gases and vapors, ventilation and other controls, occupational safety, physical agents, workplace walkthroughs, from the occupational and environmental health perspectives.
The MS program includes a research-based thesis or report/comprehensible exam. The MPH program includes a summer internship in industry or related area. The internship is optional for MS candidates. EHS 101 in chemistry must also be passed if its entrance examination is failed. Completion of the MS/MPH programs in Industrial Hygiene qualifies the graduate for one year of field experience towards the 5-year field experience requirement to be eligible to take the Certified Industrial Hygienist (CIH) examination, administered by the American Board of Industrial Hygiene.
All graduate (Masters and Doctoral) students must also choose 4 elective units from a list of five areas of industrial hygiene focus: Hazardous and Emerging Technology Substances; Human Toxicology; Industrial Hygiene Chemistry; Industrial Hygiene Management/Policy; and Safety. PH 201 must be taken if no introductory public health course has been previously completed.
The PhD program includes a research thesis dissertation that contains materials for two to three or more papers publishable in peer-reviewed academic journals, as well as presentations of this research at the appropriate disciplinary venues. The required courses are those of the Fielding School of Public Health, the EHS Department, and EHS 201 if a course in public health has not been previously completed. PhD candidates must also do the research area specialty courses set by their Guidance Committees. Superfund trainees must also take EHS 258 and EHS 280 as specialty course requirements. Completion of the PhD program in Industrial Hygiene qualifies the graduate for three years of field experience towards its 5-year eligibility requirement to take the CIH examination.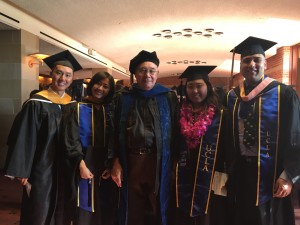 Congratulations graduates!
Calvin Wong ('15)
Environmental Health Safety Supervisor
PPG Industries
Katherine McNamara ('18)
Assistant Professor | Environmental & Occupational Health
California State University, Northridge
Faculty/Trainee Involvements
Multiple IH Program faculty and students presented at and attended the 2022 American Industrial Hygiene Association's annual conference (AIHce) in Nashville, including:
Travis Cribbs (PhD student): "Permeation of inorganic gunshot residues dissolved in commercial gun cleaning solvent through disposable nitrile gloves." (poster)
John-Paul Angulo (MPH student): "Potential determinants of pneumoconiosis resurgence in central Appalachia underground coal miners." (oral)
Alex Munoz (MS student): "Characterization of fugitive emissions produced from compact laser cutting." (oral)
Dr. Shane Que Hee (IH Director) presented on the 2nd Edition of AIHA Biological Monitoring -a Practical Field Manual for Health and Safety Professionals.
Dr. Candace Tsai (IH Deputy Director) co-taught PDC 904: Old Theories and New Concepts in Nanotechnology.