The purposes of the Region IX Southern California Education and Research Center are to:
educate professionals in the various disciplines of occupational health and safety
provide continuing education for professionals and others in occupational safety and health fields
proliferate occupational health and safety activity through outreach to regional institutions and organizations
foster research on issues important to occupational health and safety
be an occupational health and safety resource to organizations and agencies that need our expertise
facilitate marshaling of community resources to address and solve occupational health and safety problems
respond through educational programs and research to the changing range of occupational safety and health problems
educate non-academic stakeholders including business, labor, and vulnerable worker populations.
The characteristics of our Center are embodied in a coordinated, interdisciplinary set of professional education, continuing education, research and outreach activities that have a positive impact on the region's and nation's occupational health and safety practice. The Center has seven programs, five at the University of California, Los Angeles (UCLA), one at the University of California, Irvine (UC Irvine), and two center-wide programs. The UCLA programs are: Industrial Hygiene, Occupational and Environmental Health Nursing, Center Administration and Planning, Continuing Education and Outreach. UC Irvine hosts the Occupational Medicine Program. The center-wide programs are the Pilot Project Research Training and Targeted Research Training Programs. Degrees offered by ERC programs include MPH, MS, MSN, PhD, DrPH, and residency certificates.
The ERC operates in concert with the Centers for Occupational and Environmental Health at UCLA (COEH) and UCI (COEH) . These are state supported centers for research and teaching in occupational safety and health. Together the ERC and COEH represent a unique and effective partnership between state and federal funding.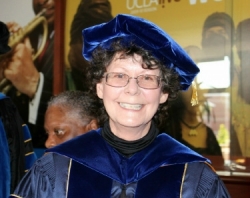 Wendie Robbins PhD, RN, FAAN, FAAOHN
Interim Director Southern California NIOSH Education and Research Center