The Southern California Superfund Research Program (SCSRP), funded by the National Institute of Environmental Health Sciences (NIEHS), includes the  training on Occupational and Environmental Exposures and Work Practices for Nanomaterials and Electronic Products. The SCSRP's Emerging Nano & Technologies Training Program develops and provides a modern and multidisciplinary training program for students and the community of industrial hygienists, and to prepare next-generation professionals for effective management of stressors caused by emerging technologies such as nanotechnology.
The SCSRP is hosted at the Department of Environmental Health Sciences, UCLA Fielding School of Public Health, in collaboration with the Southern California NIOSH ERC to provide training through research and curriculum activities.
Our project broadens the scope of current educational approaches with new and unique training on nanomaterials, electronic products, electronic-wastes and digital learnings through research experiences and training courses. We provide summer training and a continue education workshop to students and professionals, and academic research training and curriculum to doctoral students.
Through this, we promote multidisciplinary training and engage diverse population to the occupational fields.
Training Topic Highlights:
Sampling methodologies for nanoparticles(NPs) at indoor and outdoor work environments
Controls/ventilation system implementation for minimizing exposures and managing work practices
Exposure scenarios of electronic products at the disposal stage of their life cycles
In vitro study of biological effects caused by metal oxide nanomaterials used in electronic products
Development of augmented reality (AR/VR) training tools
Research topics are available for graduate students during academic and summer periods.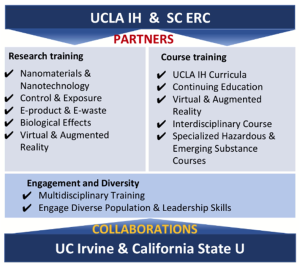 Our multidisciplinary team includes diverse faculty members and students at UCLA, UC Irvine, California State University Fullerton (CSUF), and California State University Long Beach (CSULB). Our team consists of industrial hygienists, environmental scientists, population health experts and community partners.
Our training focuses on occupational exposures and effects, digital learning techniques, practices and protection guidance regarding engineered nanomaterials, emerging infectious agents, and nanotechnology-enabled products including consumer electronic products and their related waste to be managed at the generation and disposal stages. It is essential to provide proper training on the hazards of exposure to new materials used in emerging and rapidly changing technologies and their effective control strategies.
July 11-15:
Day 1 - Monday
Day 2 - Tuesday
Day 3 - Wednesday
Day 4 - Thursday
Day 5 - Friday
AM session:
10am-12pm
Nano module
E-waste module
VR/AR module
VR/AR module
Nano module
PM session:
12:30pm-2:30pm
Health effect module
Health effect module
All modules are requirements for a certificate of training, which will be given at the end of the workshop courses.
The Southern California Superfund Research Program gratefully acknowledges its support from the National Institute of Environmental Health Sciences (NIEHS) as one of the Occupational and Safety Training Education Programs on Emerging Technologies (R25). The Southern California Education and Research Center gratefully acknowledges its support from the National Institute for Occupational Safety and Health (NIOSH).
keywords: emerging, NIEHS, Candace Tsai, R25, nanotechnology, particles, training program, occupational health exposures