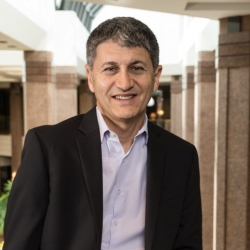 Adjunct Professor
Environmental Health Sciences
Fielding School of Public Health
University of California, Los Angeles
650 Charles E. Young Dr. S, 61-297 CHS
Los Angeles, CA 90025
Areas of Interest:
Industrial Hygiene
Occupational Health
Environmental Health
Environmental Health & Safety
Hamid Arabzadeh is the founding Principal of HRA Environmental Consultants Inc. and teaches graduate industrial hygiene and occupational health classes for the Master's program at UCLA. He served on the advisory boards of Occupational and Environmental Health and Safety at the University of California as well as the California State University Workers Compensation reform board. Hamid was elected as a fellow of the American Industrial Hygiene Association and served as the chairman of its Fellows SIG. He has been active in the field of professional and corporate ethics and is Board Certified in Industrial Hygiene, safety professional and Hazardous materials management.
Hamid has worked with governmental and corporate entities in the US and Canada as well as in Southeast Asia, including Indonesia, Philippines and Thailand, as well as the Netherlands and UK on environmental and worker protection efforts. Hamid and his team of industrial hygienists and occupational and public health professionals have developed several successful health and safety programs for major hospitals and healthcare facilities and have collected over 50,000 air, surface, bulk, area and personal samples for a wide variety of physical, biological and chemical agents in 13 countries in the last 25 years.  These have included, Asbestos, Benzene, Toluene, Xylene, noise, vibration, illumination, heat and cold stress, radiation, mold, allergens, solvents, VOC's, PAH's, and MMMF (man made Mineral Fibers), particulates, such as dust, silica, wood dust and others.